Another day, another crisis survived, another celebration begins. It was a coo-coo-ca-choo crazy weekend. There was a lot of testing being done. I feel like I passed most of the tests…I'll tell ya, the words from Sunday morning keep flying around my brain.
"when someone is down, due to chance, or choices they have made, it does them no good to point a gun at them and look down and be judgemental. Instead, offer love, and forgiveness, and hope"
There have been major tests within friendships these past few weeks.And while the tests weren't solely mine, or really much to do with me at all, they stirred up some pretty deep emotions churning over and over. I feel good that it's a brand new week (for us non-Normals) That we have all been gracefully given a do-over. Breathe in. Breathe out. The tests were passable. I feel like I passed.
The DNC began last night!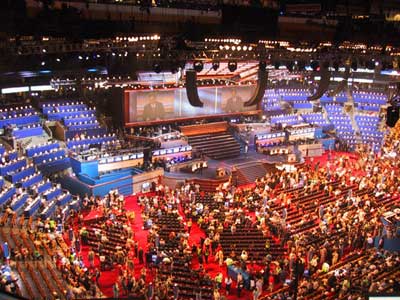 I watched MSNBC from about 3pm until much much later. I did, however switch to PBS for the speech coverage. There was less commentary, and MSNBC was having some sort of audio funk going on. I am not a huge fan of Nancy Pelosi. But I have to say, the Kennedy tribute and subsequent appearance by the man himself, and that speech, all the while the cameras panning to his nieces in the audience trying and not doing a very good job of holding back tears…gah!
I thought the senator from Missouri was good and the introduction of Michelle Obama by her brother was just fine!

Michelle was good. I liked what she had to say. The camera kept panning to her mother sitting up in the audience, and that woman cracked nary a smile nor a snitch. Apparently she decided to hold her breath until the entire speech was finished and successful! I felt like she was clear and passionate. Maybe a little physically stiff, but I think that's due to her excitement and having to be contained behind a podium and teleprompter. I feel like she did a great, great job. She looked fanfreakintastic as well! And those girls!! That little one was just getting warmed up with her Mr. Microphone when the show was over! She is gonna be FUN TO WATCH over the years!!!
I had a small bit of contact from the Redhead. Surreal is an adjective that he has been using this week!! Good stuff abounds.
We are closing in on Labor Day weekend and traditionally the end of summer. For me, it's the beginning of my power time, my magic months. My favorite times of the year. But this year, it seems sad to me. It's all going so fast. Looking back from the beginning…I'll post my 208 in 2008 list this week and we'll go over what I still need/want to do. I am getting more and more excited about the impending trip to my Soul City to see my Soul Sisters. Giddy. Just giddy.
It's time for me to clean my stinky self. You guys have a great day. We don't have to be sleep deprived for the first time in 17 days, the convention ends early…plenty of party time left in the evening for the attendees! man, I sure do wish I was one of them!!!
OH, I got my yard sign! My first election while owning a yard!! I'm loving it!