SO. . . just got off the phone with mom and she reminded me that I now live not too far away from the place where the "devil worshippers" live…I vaguely remember something like that rumored when I was in high school. Well. Shit the bed. It's just the kind of thing that will stick in my head and keep me freaked out all night. This is precisely why I don't watch scary movies, ro read horror books etc. I spend too much time alone to get scared. I'm trying to talk it out of my psyche so I can actually sleep tonight.
I weigh in tomorrow. Wish me lightness. I skipped last week due to having ingested most everything but the cat food on the weekend, and the Pilot was due at 12:45 and that's usually when I walk back in from the meeting and I didn't want to be rushed for his appointment. so. back at it tomorrow.
I love this man.

watching him dance with Scary Spice makes me moist.
Tell me whatcha want whatcha really really want, I'll tell ya what I want what I really really want.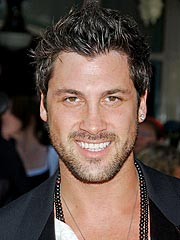 I don't know how the F Dr. Quinn just got saved from elimination but I protest. Looudly!!!
I should hear something tomorrow about the Carpenter Square audition…cross your fingers for me.
It seems as if I'm asking you to do a lot for me. Send me strength, make me laugh, keep me from crying, send me good luck, keep me company here so the Devil Worshippers won't get me…for that, thank you.
Can I do anything for you?
NabloPoMo starts Thursday. That is a commitment to blog once a day for the entire month of November. I believe it to include commenting as well. I encourage you to sign up, participate and comment! COMMENT!! I will encourage you to blog, and I commit to commenting for your efforts…it really makes it fun to read those, eh?
I'm off to do some dishes, work on Steel Mags script and finish watching DWTStars. Barry Manilow is the guest singer. . . . who doesn't love Copacabana????